Fox News Panel Blasts Newt Gingrich For Not Making It On Virginia's Primary Ballot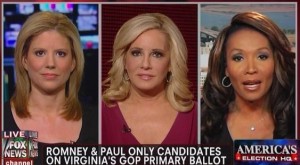 Earlier today, we reported that Newt Gingrich failed to qualify for the Virginia Republican primary ballot and his name (along with those of all but two of his opponents) will not be on the ballot come next year. On Fox News earlier, two political analysts criticized the Gingrich campaign for not being organized enough, and called into question how he did not amass enough signatures in his home state.
Angela McGlowan said the failure calls into question Gingrich's organizational skills. Bashing the process can only do so much when you're a popular candidate with widespread support who couldn't get 10,000 signatures in Virginia. What hurts Gingrich's campaign the most in this process is that he was actually polling ahead of all the other candidates and in a statistical dead heat with Mitt Romney. As McGlowan put it, if Gingrich couldn't get it together enough to abide by the rules in Virginia, he might not have the discipline necessary to be the next President of the United States.
RELATED: Newt Gingrich Appeals For Help In Iowa: 'I Don't Have The Resources To Compete With These Guys'
Kirsten Powers tacked on another embarrassing element of this story for the Gingrich campaign: Virginia is the candidate's home state. It's where he has lived for a number of years. So when the primary season rolls in, he won't have home field advantage to lean on. Powers also noted that unlike Gingrich, Michele Bachmann, Jon Huntsman, and Rick Santorum didn't even try to get on the ballot, suggesting that they did so due to a lack of resources and a strategic focus on Iowa in the coming weeks.
Gingrich's only recourse at this point would be to run a write-in campaign, which would definitely be a long-shot. As McGlowan pointed out, Lisa Murkowski successfully won a write-in campaign to keep her Senate seat in Alaska after losing the primary to her tea party challenger. However, Powers noted that Virginia state law actually bans all write-in campaigns, so that particular avenue is closed off to Gingrich.
Watch the video below, courtesy of Fox News:
Have a tip we should know? tips@mediaite.com
Josh Feldman - Senior Editor