Fox News Panel Clashes Over Who Sold More Access To The White House, Obama Or Bush
Fox Panel Clashes Over Who Sold More Access To The White House, Obama Or Bush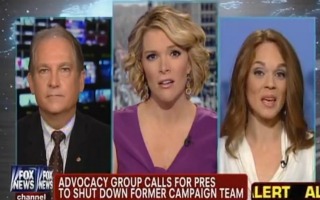 A panel discussion on Fox News Channel regarding the news that President Barack Obama's former campaign outfit has been selling access to the White House resulted in a rare bipartisan agreement on Tuesday. Both a Republican political operative and a Democratic operative, who had previously worked for Obama's campaign, agreed that the appearance of unethical behavior by the president's campaign organization was overwhelming. However, the panel blew up when they debated if President George W. Bush was equally as guilty of selling political influence while he was in the White House.

RELATED: Fox's Brit Hume: Obama's 'Amazing' Election 'Machine' Was 'The Greatest Political Organization' In History
Anchor Megyn Kelly played a clip of White House Press Sec. Jay Carney being grilled by members of the press corps over allegations that Obama's repurposed campaign organization is engaging in the trading of access to the president in exchange for financial donations.
"Now we have the New York Times reporting, if you cut this group a check of $500,000 or more, you will get four meetings with the president," Kelly said. She asked if this arrangement contradicts the president's stated goals of political reform and, potentially, if it violates codes of ethical conduct.
"The optics don't look good," replied former Obama campaign consultant Marjorie Clifton. "Money does talk in Washington regardless of what party you're in."
She said that industrialists like the Koch brothers were able to secure time with Mitt Romney during the 2012 presidential campaign, just as Hollywood media moguls could use their financial largess to be granted meetings with the president.
"We see this on both sides of the aisle," Clifton said. "It absolutely doesn't look good to have the president speaking openly about this very issue and then seeing this, kind of, unfolding in the way it is. But, unfortunately, it's business as usual."
Kelly asked former advisor to President Bush, Brad Blakeman, what the reaction would be if the Bush administration had been guilty of selling access to the president via a repurposed campaign operation. Blakeman replied that it would be a national scandal and the Department of Justice would be looking into it.
"This is immoral. It's unethical. It's illegal," Blakeman said. He said that this is such a self-evident example of corruption that even left-leaning groups like Common Cause have come out against it. "It's exactly what you would expect out of a Chicago, political hack machine," Blakeman added.
The panel became heated when Clifton said that Bush had sold access in the form of soliciting donations for his presidential library. Blakeman countered that the incident in question occurred after Bush was out of office.
Kelly concluded the segment by noting that President Obama came out against this practice while he was a senator prior to 2009. Clifton agreed, and said that this incident underscores the need for campaign finance reform.
Watch the segment below via Fox News Channel:
> >Follow Noah Rothman (@NoahCRothman) on Twitter
Have a tip we should know? tips@mediaite.com