Fox Pundits Erupt Over Whether Republican Efforts To Link Obama To Scandals Is 'Desperate'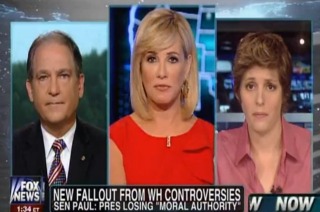 A Fox News panel discussion on Monday erupted over the question of the moral leadership that President Barack Obama's White House is providing for the nation. The panel guests battled over whether Obama's response to the scandals surrounding his administration has been sufficient, or whether the GOP is "desperate" in their efforts to link the president to malfeasance within the federal government.

Asked about how the scandals surrounding the White House reflect on the morality of the president and his administration, Fox News Channel contributor Sally Kohn said that Memorial Day should be a time to abandon politics. Instead, Republicans have attempted to tie Obama to malfeasance within his administration with which he is not directly linked.
Kohn said that "it's pretty pathetic" how the Republican effort to tie Obama to his administration's scandals have devolved in recent days. She said that "legitimate" criticism about Obama's deportation of illegal immigrants or use of drone strikes is welcome, but an effort to tar Obama with unfounded accusations is not.
Former advisor to President George W. Bush, Brad Blakeman, disagreed and said that Obama is "losing his credibility."
RELATED Alan Colmes And James Pinkerton Explode: Why Are Soros-Funded Liberal Media Outlets Defending The IRS?
"People don't believe this president when he talks about Benghazi, when he is indifferent to the targeting of Americans by the IRS, or the targeting of the press," Blakeman said. "This is not what we expect from a president."
Kohn and Blakeman battled over what Obama should have done in response to these scandals. Kohn asserted that the empty gesture of firing administration officials would not be effective leadership.
"When they admit wrongdoing, they should be fired," Blakeman shot back.
"Suggesting that leadership would be the president hastily firing people before anyone knows all of the facts is, I don't know, completely the opposite of leadership," Kohn said.
"When people in the executive branch of government have admitted to criminal wrongdoing, they need to be fired," Blakeman replied.
Kohn twice said that the Republican critique of Obama's leadership amid the unfolding scandals surrounding the Justice Department, the IRS, and Benghazi strike her as "desperate."
Watch the clip below via Fox News Channel:
> >Follow Noah Rothman (@NoahCRothman) on Twitter
Have a tip we should know? tips@mediaite.com