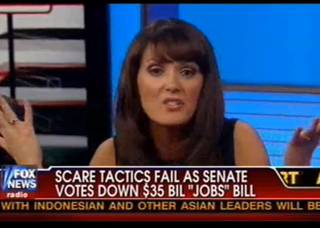 Early morning weekend television is tough. There's probably a lot of sleeplessness and caffeine involved, and looking lively is a must. That must have been what Fox Business anchor Dagen McDowell was striving for this morning on Fox News' morning panel with Neil Cavuto, when she called Vice President Joe Biden "numb nuts" and accused him of "talking out of his backside." Have to keep things spicy, right?
The topic, loosely, that the panel discussed were comments by the Vice President suggesting crime rates would go up if the Obama jobs bill was not passed, because police officers would have to be fired and criminals would be out on the streets. Panelists Charles Payne and Ben Stein were interrupted in their discussion of why crime rates today were so low (Stein arguing because prison population has skyrocketed) by McDowell, who had a point to make.
While President Obama was out claiming "folks are rewarded for saying irresponsible things to win elections," she argued, "lecturing and hectoring (?)," while "Numb Nuts [is] on the campaign trail talking out of his backside." Charles Gasparino tried to make the point in a more modified way, calling Biden "off his rocker," while Cavuto tried to regain control of the panel and Adam Lashinsky interjected, "I object to calling the Vice President a 'numb nut,' just to state that for the record."
This kind of language is prima facie unacceptable in political discourse, clearly, but the video is still something of a marvel, as the rest of the panel tries to initially understand what just happened and then distance themselves from it in some sort of dignified fashion.
The segment via Fox News below:

Have a tip we should know? tips@mediaite.com