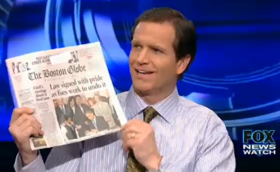 Lost somewhere among the Saturday night Glenn Beck reruns and Geraldo Rivera's missing people exposés is usually a nugget or two of pure commentary gold, whether it's Chris Wallace calling the White House a bunch of "crybabies" or a segment dedicated to bashing Sarah Palin. This weekend, Cal Thomas uncovered the secret "haiku going on" between the Democrats and the mainstream media, and Fox News Watch host Jon Scott did his best impression of a living edition of the Boston Globe.
The segment on Saturday's Fox News Watch analyzed the relationship between the Democrats and the media in the context of health care reform. Scott, along with Thomas, New American Foundation fellow Jim Pinkerton, and Fox News contributor Judy Miller argued that the media's cheerleading for the health care bill was obvious and unprofessional. Thomas in particular noted that the positive coverage of the health care reform passing was symptomatic of a greater problem with the American right– their inability to convince the masses to agree with them.
"There's kind of a haiku going on between the Democrats and the media," he noted, "the Republicans have never, ever been able to figure out how to win the media war on this. The Democrats constantly come up with the sob stories." It's unclear whether the "haiku" comment was the result of Thomas grasping at straws for a foreign-sounding word for "romance" or whether he actually meant there was a Japanese poem "going on" in between the two entities, whatever that would mean. Maybe it was a reference to HaikuGlennBeck.com, an anti-Beck website funded by the organization Jewish Funds for Justice (and designed by Mediaite contributor Philip Bump) dedicated to fighting his anti-progressive views with the medieval Japanese artform. But more importantly, polls showed as early as last week that almost 60% of Americans opposed the health care bill, and if Tea Party activism is any indication of the political vitality of the right, Thomas' attempt at playing possum rings somewhat false.
The conversation continued with Scott corroborating Thomas' point with an admittedly over-the-top headline from the Boston Globe made even more preachy by the movie trailer bravado Scott used to read it aloud. Newsweek's Ellis Henican didn't buy the claim that the Globe's headline was biased jut because Scott gave a dramatic reading of it, and continued to counter subsequent claims in a conversation on political violence that the left's unruly members are shielded from coverage more than the right's.
Video below:

Have a tip we should know? tips@mediaite.com