Fox News Panel Investigates Whether The Sister From Fresh Prince Knows Sinister Obama Secrets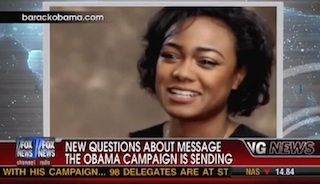 Are President Obama, President Medvedev, and the younger sister from The Fresh Prince of Bel-Air all plotting to destroy America in Obama's second term? Probably not but, y'know maybe? That might be the takeaway from this Fox News segment on a mysterious video that the White House removed from the Barack Obama's official site. In the video, Tatyana Ali, who played Will Smith's fictional cousin on television's most groundbreaking view of 1990s class warfare, claims that, were Obama to get a second term, it would be "on."
Gosh, Fox News. Are you really trying to wring a whole story about something maybe vanishing from a website. That's so lame.
Ahem. Anyway, The Daily Caller picked up on the video (my heart goes out to the poor soul over there who has to sit around watching all of Obama's campaign ads over and over looking for potential controversy) and they then linked the Ali's "It's on" comment to Obama's hot mic incident with Medvedev.
American Live picked up the story and, while neither Megyn Kelly nor her panelists, David Webb and Jehmu Greene, wanted to make the leap that Ali knows anything secret, Kelly did see the Russian connection:
"It's not so much that Tatyana and Axelrod are sitting down together, coordinating on message. But the reason this has become controversial, and probably why the Daily Caller noticed it, is because it echoes what the President himself said to Medvedev in an off mic moment, right, last week, when he was sort of saying 'I've got one more election. Trust me, I'll have more liberty after the election.' Or however he put it."
This, of course, is only the second time a Russian leader has been compared to a Fresh Prince star, the first being that time Mikhail Gorbachev was videotaped dancing The Carlton.
Watch the clip from Fox News below:
Have a tip we should know? tips@mediaite.com