Fox News Panel: Is Spike Lee's Tweet 'Inciting The Same Kind Of Violence That Killed Emmett Till'?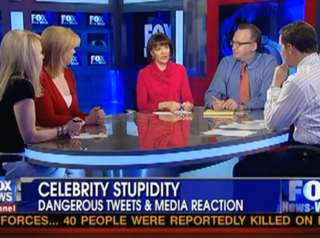 Fox News' weekly media watch roundup program Fox News Watch took a look today at the way the media has been approaching the Trayvon Martin tragedy and the way the story has played out. In that analysis, the panel looked at several offshoots of the story: the New Black Panther Party, Al Sharpton, and what the dangers of Spike Lee tweeting out the wrong address for George Zimmerman.

RELATED: Spike Lee Settles With, Apologizes To Couple Whose Address He Tweeted
Host Jon Scott opened up the panel wondering whether the way the media and some in Congress were discussing the story was fair and accurate. Kirsten Powers noted that some people were stepping out of line with the way they condemned George Zimmerman, but that was due to the fact that "people feel they should be an arrest," and she did admit she believed "if a black person did this to a white person or Hispanic person, they would have been arrested." Jim Pinkerton agreed but named names, attacking Roseanne Barr and Spike Lee for "contributing to the creation of a would-be lynch mob." "Isn't [Lee] inciting the same kind of violence that killed Emmett Till?" asked Scott.
Judith Miller thanked the media because "we know a lot more about this than we knew last week," and seemed, along with Powers, not entirely concerned about marginal figures like the New Black Panther Party, though the whole panel appeared more worried about the impact of people at the forefront of national media. Pinkerton compared Al Sharpton, for example, with Sean Hannity, noting that "when he came close to the Tea Party, Fox yanked him away from the events."
The segment via Fox News below:

Have a tip we should know? tips@mediaite.com