Fox News Panel Pans Rick Perry's Debate Performance: He 'Really Did Throw Up All Over Himself'
Fox News Panel On Rick Perry: He 'Really Did Throw Up All Over Himself'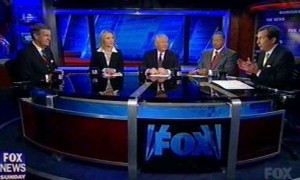 On Fox News Sunday today, Chris Wallace and the panel talked about Rick Perry's future chances to secure the GOP nomination after his less-than-impressive showing during last week's debate. Brit Hume started out by arguing that Perry not only stumbled, he "really did throw up all over himself in the debate at a time when he needed to raise his game."
A.B. Stoddard, reacting to Herman Cain's Florida straw poll victory, suggested this represented not just a disappointment over Perry within conservative circles, but a "dissatisfaction" with the current field amongst the base. Bill Kristol, who summed up the debate in an op-ed titled "Yikes," defended his claim that Rick Perry was "weak" in the debate, and cited the Florida poll in agreement with the idea that GOP voters aren't happy with the candidates they already have.
70 percent of the Republicans, having seen with their own eyes Romney and Perry up on the stage Thursday night… voted against the two frontrunners. It was a vote of no confidence in Perry, I think, because of his really poor debate performance, but also in Mitt Romney, who spent a lot of time in Florida over the last five years. To get 14 percent isn't very strong, so I think these are very weak frontrunners.
Juan Williams saw this current primary season as a bad one for Republicans so far, despite the initial bump Rick Perry got when he entered the race a few weeks ago. Hume suggested it might have been a mistake for Perry to be framed as a true conservative when, on issues such as immigration, his position appears to be to the left of his opponents.
Wallace asked Kristol why the base isn't really warming up to Mitt Romney when he seems like a more moderate alternative to Perry. Kristol admitted he liked Romney, but so far he hasn't exhibited "presidential-level leadership." Of course, since the topic was 2012, Kristol mentioned he would love to see Chris Christie get into the race.
Watch the video below, courtesy of Fox News:
Have a tip we should know? tips@mediaite.com
Josh Feldman - Senior Editor