Fox News Panelist: Obama 'Slept Through' 3 A.M. Phone Call While Hillary Clinton Picked It Up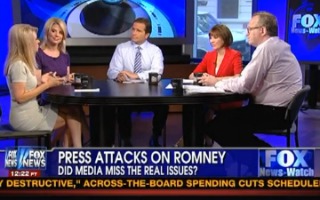 On Saturday, a Fox News Watch panel took a look back at the past week's story regarding two reporters who had been recorded coordinating questions before a Romney press conference.
Fox News contributor Judy Miller said she was more concerned over conservatives' criticism of Romney following his remarks about the violence overseas this week. The American Conservative Magazine's Jim Pinkerton said the moment with the reporters simply added further evidence to the idea that there exists such a thing as a homogeneous, like-minded, singularly-focused media elite.
RELATED: Open Mic Catches Reporters Coordinating Questions Ahead Of Romney Press Conference
Richard Grenell, the former spokesperson for the last four U.S. ambassadors to the United Nations, believes the current social media and speed-driven nature of news has journalists rushing too much to get a big story out, even if it means resorting to "groupthink" to get one coordinated message out there quickly.
Talk show host Monica Crowley felt the moment "went beyond mere coordination" and into "ambush" territory. Instead of focusing its collective ire on Romney, she suggested, perhaps the press could focus more on asking why, for example, President Obama has been "blowing off" intelligence briefings.
Daily Beast columnist Kirsten Powers later added that the press would have gone after the President more over referring to Egypt as "not an ally" if he'd been Republican, and Grenell noted that it was Secretary of State Clinton — and not Obama — who really took the helm in the moments and days following this week's attacks on U.S. embassies. Obama, he said, is simply sleeping through that infamous "3 a.m. phone call."
Have a look, via Fox News:
Have a tip we should know? tips@mediaite.com