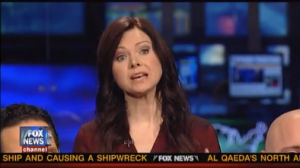 On Tuesday afternoon, Fox News' Megyn Kelly welcomed a panel of Republican voters to the show, leading them in a discussion on last night's debate in South Carolina — with special focus, of course, on Newt Gingrich's interaction with moderator Juan Williams.
RELATED: Newt Gingrich And Juan Williams Rumble Over Proposed 'Child Janitors' Claim
Williams, you'll recall, pressed Gingrich on previous comments he'd made about the hiring of "child janitors" and about President Barack Obama, whom Gingrich had referred to as the "food stamp president." "It sounds," Williams had told him, "as if you are seeking to belittle people."
After watching a clip of the exchange (and the raucous applause Gingrich's response inspired), the panel was asked whether the debate had been a "game changer" for Gingrich. Their reaction: Meh. But, as one panelist saw it, the primaries may have already given us a clear candidate for the right's libertarian sector (that'd be Ron Paul), and for its establishment contingency (Mitt Romney), but the GOP is still searching for its socially conservative candidate. As such, "the real loser in this exchange," said the panelist of the debate, "was Rick Santorum. He had to shine last night. He had to mix it up with Gingrich. He did not."
Another panelist, Dee Dee Benkie, gave a slightly more blunt analysis:
[Gingrich] is the worst messenger we could ever have. He's a rich, old, fat white guy. […] Well, he was condescending to Juan Williams. I mean, Juan has a good point: Look, folks, I mean we've got the 99 percent versus one percent and the Democrats are smart to try to make that happen. And Newt Gingrich is the worst deliverer of this message ever because he is saying, you know, he's talking about blacks and poor whites should be janitors. It's just not a good message. It's insensitive.
Later, when another panelist brought up how "illegal aliens" are taking away low-paying American jobs, Benkie said, "You're sounding like mean Republicans… We can't do that."
Have a look at their discussion, via Fox News:
Have a tip we should know? tips@mediaite.com