Fox News Panelists Mock Ann Coulter's Cain Comments: 'I Didn't Know We Owned Blacks!'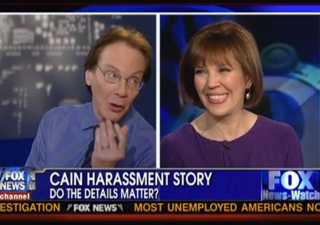 With today being the first time weekly media criticism program Fox News Watch got to discuss it, the top of the program was devoted to the Herman Cain sexual harassment scandal. After going through the more bizarre elements of the story– the fact that, despite 50 stories on it in Politico, no one has any details; the seemingly botched response from the campaign– they turned to the commentary on the story, and neither Judith Miller nor Alan Colmes had anything positive to say about Ann Coulter taking the opportunity to tout the superiority of "our blacks" this week.
RELATED: Jon Stewart Ridicules Ann Coulter For Her 'Our Blacks Are Better Than Their Blacks'
The conversation began with a look at the number of articles published about Cain's sexual harassment scandal compared to those of Bill Clinton and other politicians. Miller noted that she did see that the Cain campaign was partly to blame, as "there are rules to how this is handled and the cover up is always or usually worse than the crime." Colmes agreed, and defended Politico, as "all [they] did was report something that actually happened," and then Cain "bungled the whole thing." Andrea Tantaros agreed, but added that the reason the Clinton stories didn't get the same volume of coverage was that "they said it was a private matter, and the media obliged." She also added that she was extremely skeptical of the Cain charges, as "there are no details yet, and I believe that if Politico had the details, and they would've been salacious, they would've used them."
RELATED: Whoopi On Coulter: I Didn't Know We Were Anybody's Blacks! I Thought I Was Free!
Host Jon Scott then turned to Coulter's comments over the week, beginning with suggestion that the media would not have covered the Cain story if he were white. "That's just not true!" Miller exclaimed, "Look at John Edwards! It's because of all who have come before him that sexual harassment is now an issue that is on the table." Colmes wasn't equally surprised, but did joke about the comment, "I didn't know we owned blacks!" Miller laughed at the outrageous comment and adamantly declared that the investigation was not a "high-tech lynching," as Coulter and others had claimed, and that it was "splitting the conservatives down the middle," between those that refused to support any investigation and those who did not want to opine on the matter until all the facts were out in the open.
The segment via Fox News below:

Have a tip we should know? tips@mediaite.com