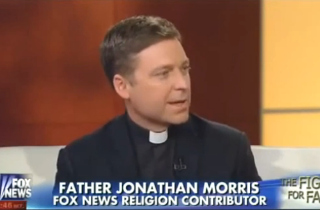 A Satanic mass occurred in Oklahoma City this weekend, and Fox's Father Jonathan Morris is not happy the local government allowed it to happen.
The event, organized by Satanist Adam Daniels, took place at the city's Civic Center, despite protests from locals. Because the building is public, officials said, the "black mass" should be allowed to proceed. According to Tulsa World, the event was originally supposed to include ritual denouncement of Jesus Christ, via stomping and spitting on wafers representing the Communion.
Appearing on Fox & Friends Weekend, Morris said he genuinely feels "bad" for anyone who participates in such an event. While conceding that the Satan-worshippers have a "political right" to their event, he suggested that the city should have done more to prevent it from happening because, in his mind, they are provoking violence.
"Anybody who walks into a crowded theater and yells 'Fire!' "Do they have a right to do it? Yes," he continued. "Free speech? No. Why? Because you're inciting violence."
How is the event inciting violence? Allow Morris to explain:
When you have a group that does this, not just because they want to do their own little worship, but they are provoking anger and hatred among the community, the city can step in and say: "That's not worship, that's not free speech, that's mockery, and you're inciting violence."
When host Clayton Morris reminded the priest that the city has declared it a legal event, Morris asked: "But what if I want to go and desecrate a Koran out in front of my church? What if I want to speak pro-Nazi stuff right in front of my church and get people all fired up on a public sidewalk?"
He concluded: "I think at some point government has to step in the name of free speech."
Watch below, via Fox:
[h/t Raw Story]
[Image via screengrab/Fox]
— —
>> Follow Andrew Kirell (@AndrewKirell) on Twitter
Have a tip we should know? tips@mediaite.com