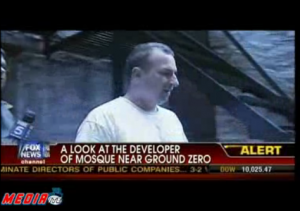 Everyone's heard of Imam Feisal Abdul Rauf — he's the face of the so-called "Ground Zero Mosque." But Fox News says they have the true mastermind developer behind "the most controversial mosque in the world": Sharif el-Gamal. Host Megyn Kelly calls the profile piece a "must-see."
Sharif el-Gamal, a former waiter at several New York City upscale restaurants, now just years later finds himself dropping millions of dollars on several properties all across Manhattan. The report portrays el-Gamal as an affable hyper-networking guy, that refuses to grant Fox's New York City affiliate an interview, actively avoiding efforts by WNYW's Charles Leaf to nab him on the street for the report.  It's not that he's media-shy either — a month ago, el-Gamal granted an interview to Beliefnet, though that interview probably had a friendlier tone than Leaf's likely would have.
And though el-Gamal's found this new fortune, ultimately his doesn"t exactly fit the typical rags-to-riches story template. Leaf seems to question where he is getting the money to buy these properties?
When interviewing another realtor that knew el-Gamal, Fox News introduces us to the fairly common idea of a guarantor, and sure enough there is one on a different property:  Hisham Elzanaty.  But one might openly wonder  why isn't Leaf chasing that guy at his house? Good question.  If el-Gamal isn't the type to have $4.8 million to buy the Park 51 property, maybe the guy who loaned him $39 million to get a different one is.
Watch the FOX News segment below:

Have a tip we should know? tips@mediaite.com