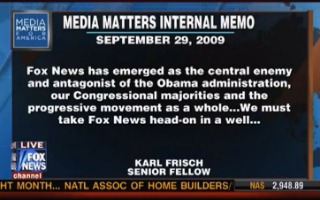 On Wednesday, Fox News' Happening Now gathered together a panel to discuss a slew of recently-released internal memos pointing to an organized effort by the watchdog group Media Matters to bring down Fox News and its parent corporation News Corp. What, they wondered, does this mean for the group's tax-exempt status?
Earlier today, Daily Caller senior online editor Vince Coglianese paid a visit to Fox News' Fox & Friends to shed more light on the site's ongoing investigation and exposé into the liberal media watchdog group. He explained that the group's tax-exempt status basically amounts to "taking a government subsidy in order to attack a for-profit company like Fox News and News Corp. So you have a company that is free of tax, federal taxes, people can donate to and have a tax write-off and it's classified as an 'educational charity,' but, by any conventional standard, doesn't meet any of those metrics."
RELATED: Guns, Sex, And MSNBC: Daily Caller Publishes Media Matters Exposé
Fox News explained that, according to tax law experts, internal documents showing that executives at Media Matters considered hiring private investigators to look into the private lives of Fox News hosts, commentators and executives provide evidence that the group is, at the very least, "stretching the boundaries" of what a tax-exempt organization should be doing.
And, according to an internally-circulated memo sent out by senior fellow Karl Frisch in 2009, Media Matters characterized Fox News has "the central enemy and antagonist of the Obama administration, our Congressional majorities and the progressive movement as a whole," adding that "we must take Fox News head-on in a well-funded, presidential-style campaign to discredit and embarrass the network, making it illegitimate in the eyes of consumers."
Daily Beast columnist Kirsten Powers found news of Media Matters' "mission" to take down Fox News disappointing because "overall, they serve a purpose, they monitor the media and they find where they think there's bias or mistakes."
NY Daily News columnist Andrea Tantaros, meanwhile, applauded Republicans looking into and asking questions about Media Matters' activities and how the group undermines its own claims to be a charity while all the while gunning for a pro-profit news outlet because they "don't like" their reporting.
And American Conservative Magazine's Jim Pinkerton noted that, not only does Fox News have a "right to exist and not be defamed," but it also exists as a member of the media with First Amendment rights.
So is any of this enough to strip Media Matters of its tax-exempt status?
Have a look at the discussion, via Fox News:
Have a tip we should know? [email protected]