Fox News Reports: Are Ft. Hood And Afghanistan Shootings Receiving Equal Treatment In The Media?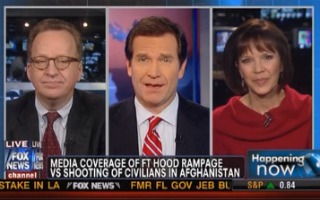 On Wednesday's episode of Happening Now, host Jon Scott asked whether the U.S. media had given equal treatment to coverage of the Fort Hood shooting and the recent shooting of Afghan civilians equally. For instance, he asked, is Sgt. Robert Bales, the soldier accused of opening fire on 16 civilians in Kandahar, Afghanistan, getting "the same kind of treatment as the guy who jumped on a table, shouted 'Allah Akbar!' and started shooting his fellow soldiers"?
Investigative reporter Judith Miller felt that, no, Sgt. Bales has clearly not been receiving the same treatment as the sole Ft. Hood shooting suspect, U.S. Army Major Nidal Malik Hasan. She found it particularly outrageous that, to this day, Pentagon reports on the Ft. Hood shooting do not include anything about Hasan's religious motivation.
RELATED: With New Info On Soldier, Morning Joe Panel Wonders If Afghan Shooting Constitutes 'Historic Moment' In War
Scott also pointed out that, while it it being determined whether both Bales and Hasan's respective actions may have been caused by PTSD, only Bales actually saw combat — and through several tours of duty, at that
And in Bales' case, noted American Conservative Magazine's Jim Pinkerton, the media is "anxious, in the Bales case, to provide detail and context," so his past has been studied and analyzed extensively. In Hasan's case, he argued, the media was "at pains not to provide context — they didn't want to think of Major Hasan in the context of global Jihad, radical Islam, terrorist networks. They were at pains to sort of make him seem like some sort of 'lone gunman'."
"Militant Islam is not the religion most Muslims practice in this country," Miller cautioned.
Scott, for one, couldn't believe that the Ft. Hood shooting had been labeled a case of "workplace violence."
Have a look at the segment, via Fox News:
Have a tip we should know? tips@mediaite.com