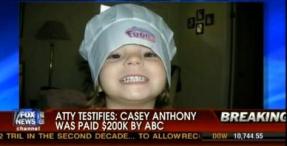 The Casey Anthony trial is going on right now, and FNC's Harris Faulkner reported some "breaking news" this afternoon that ABC News had paid Anthony $200,000.
Unfortunately, this news was broken 18 months ago.
Faulkner is live from the "breaking news desk" with the news. "Something was confirmed that had only been rumored before, where did she get all the money to pay the attorney's up til now," she said.
Interesting – and yes, this was now said under oath. But here's what I reported at TVNewser in September 2008:
Still, much of the focus turned to ABC News. The network aired exclusive home video footage of the Anthony family on GMA Friday morning and on 20/20 Friday night. The Orlando Sentinel's Hal Boedecker was first to report, "ABC News did not pay for interviews or the home video…but ABC News told me that it did license the home videos and photographs."

An ABC News insider tells TVNewser the network paid $200,000 to license "several hours worth of home videos." The insider also says NBC was involved in a bidding war for the footage. A second source inside ABC tells TVNewser all three broadcast networks bid on the material which was eventually licensed to ABC.
We don't blame Faulkner – she's just reporting it. Also, to be fair, MSNBC reported the news as well (not breaking). But shouldn't there be a little vetting before the breaking news scroll gets used?
Here's the "breaking news" report:

—–
» Follow Steve Krakauer on Twitter
Have a tip we should know? [email protected]