Fox News Reports On The "Food Activists" Who Kidnapped And Beheaded A Ronald McDonald Statue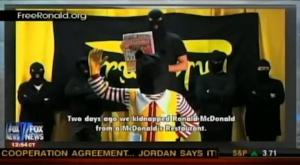 Aaaaaaaaaaand this is the weirdest thing you'll see all day. A group in Finland calling themselves the "Food Liberation Army" has apparently stolen a statue of Ronald McDonald from a local McDonalds and made a series of "terrorist" videos in which they blindfold and then behead it, all in the name of "better quality and ethicality of consumption." On Fox News, Megyn Kelly attempted to be outraged by them imitating videos of people actually being killed but, in the end, just embraced how utterly and amazingly absurd it is.
Now, there are a couple of things that make this even more hilarious. The first is that the group isn't like some ultra-vegan animal rights group as you might originally imagine. They claim they love burgers. They just don't think McDonalds have been good enough lately. Here's the message they posted on their website and read in the video:
"We are the Food Liberation Army, and we hope that this extreme action will take us towards a better and safer food future.

Two days ago we kidnapped Ronald McDonald from a McDonald's Restaurant. If you do not answer all the questions we will execute Ronald on Friday February 11, 2011 at 6:30PM EET.

We love burgers, fries and McDonald's, but we can no longer watch silent when the food we love is being destroyed and brought to shame because of greed and indifference. Because of your short-sightedness your burgers have become nearly inedible.

That is why we want to help McDonald's to save food. We made you a list of questions we want you to answer. We hope that your answers will make you understand the dilapidation of the food culture we love and the appropriate measures.

…

You have until Friday February 11 at 6:30PM EET to respond to freedomronald@gmail.com.

Silence is interpreted a negative answer. Have a nice day."
McDonalds chose not to talk to them so, unfortunately, the statue was beheaded by a guillotine. That brings us to Hilarious Item #2. The statue they beheaded wasn't even the one they stole. That one they abandoned somewhere, presumably so that they wouldn't get in more legal trouble. This means that they actually constructed a replica statue just to kill. That is ridiculous.
Please enjoy the Fox News report on the situation, especially the parts where Kelly transforms from "righteously outraged" to "barely holding a straight face." Seriously, I don't endorse illegal acts of any kind, but watching a news outlet attempt to do a serious story on this is the funniest thing I've seen in a long, long time.
Have a tip we should know? tips@mediaite.com