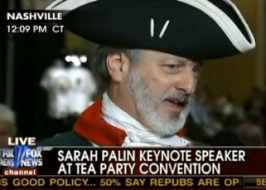 A Saturday afternoon Fox News report revealed much about the situation on the ground at the Tea Party Convention this weekend in the lead up to Sarah Palin's keynote address. The Fox reporter, though, was careful to note that the Tea Partiers are a disparate group, and this convention is by no means representative of the entire movement. Much of this point focuses on the issue of the Birthers, who believe President Obama is not a natural born citizen, and are a cause for concern among conservatives wishing to focus more on substantive (factual?) issues.
Using a clip from last night's speech from World Net Daily's Joseph Farah — "We recently took a guy with no birth certificate," he said to huge laughs and applause — the Fox reporter announced that a news conference would be held this afternoon from Tea Party groups not represented at the weekend's festivities, denouncing talk of Obama's birth certificate.
But according to Hot Air, the disagreement already manifested itself at the convention in a heated exchange between Farah and another top online conservative, Andrew Breitbart. In a report for the Washington Independent, Breitbart is quoted as telling Farah that Obama's birth certificate is "not a winning issue" and that "elections in Virginia, New Jersey and Massachusetts were all won not on birther, but on substance."
The Fox segment, too, mentions substance: "fiscal discipline, upholding the constitution and common sense conservatism." Then, Fox's Carl Cameron interviews a man in full Revolutionary War garb, complete with an accent, about the pervasive idea that Tea Partiers are insane. This portion of the segment is about three minutes long and demonstrates the "sense of humor" of the convention. There's also jewelry!
Check out the clip below:

Have a tip we should know? tips@mediaite.com