Fox News' Roger Ailes On Mike Wallace's Death: 'A Very Sad Day In Television'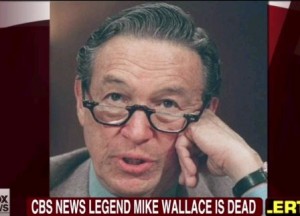 Condolences and remembrances of Mike Wallace have been pouring in today from friends and colleagues in the news industry. On Fox News earlier, network chief Roger Ailes talked about the newsman's legacy, the qualities he shares with his son Chris Wallace, and even shared an anecdote explaining why President Richard Nixon and his family, despite not being big fans of the press, respected and admired the man greatly.
RELATED: Legendary CBS Broadcaster Mike Wallace Has Died At Age 93
Fox anchor Eric Shawn asked Ailes for his thoughts on Wallace's career. Ailes remembered the tough interviews that made him a "controversial character," but acknowledged that this was just one of the many things about Wallace that guaranteed him a place in "the pantheon of greats in television and journalism." He shared a popular quip that was passed around during Wallace's tenure on 60 Minutes that "the most frightening words in the world were 'Mike Wallace is here.'" Ailes extended his condolences to Chris Wallace, who was understandably absent from his Fox News Sunday hosting duties earlier today.
When asked more directly about Wallace's interview style, Ailes remembered a man who managed to strike the right balance of confrontation and respect.
"He didn't necessarily play gotcha. He actually asked intelligent and very tough questions to answer. But, you know, many people who weathered a Mike Wallace interview grew to respect him greatly and, you know, have great regard for him because I don't recall anybody very saying to me, 'He took a cheap shot' or 'He did the obvious' or that he was, you know, was playing some kind of game. He actually was trying to serve the audience and that's what made him great."
Ailes talked about how he'd met up with Wallace occasionally to talk about the news and catch up. Ailes observed that Wallace was still sharp as ever, even as he grew older. His curiosity, Ailes said, was what made him a great newsman. Ailes even revealed some words Wallace shared with him about how proud he was of his son's work.
"I have had a talk with him about Chris Wallace. Now, Chris doesn't know this, but Mike had great admiration for Chris. And he told me things, he said, "You know, Chris has some things I don't have. Chris has a kind of a gentle approach to things, but he's as dogged as his father in terms of going after the truth. And that's one of the reasons we hired him at Fox. He gives a fair and balanced interview, but he keeps coming."
Finally, when Shawn asked Ailes about something that transcended his role as a newsman: his friendships with many people, even those who he so harshly interviewed. Ailes shared a story of how when Pat Nixon, wife of the late president, was cornered by a mob of journalists, Wallace "walked through the crowd of journalists, took her by the elbow and walked her out, and got her out of there." And since that moment, the Nixon family "never really disliked Mike."
Watch the video below, courtesy of Fox News:
Later in the day Fox News' Roger Ailes released this statement:
"Mike Wallace was one of the premier journalists of our time — his legendary tenacity, passion for the truth and unwavering commitment to fairness will always be admired and remembered. He will remain in the pantheon of greats in broadcasting journalism. Our thoughts and prayers are with Chris and the entire Wallace family."

Roger Ailes
Chairman & CEO, FOX News
Have a tip we should know? [email protected]
Josh Feldman - Senior Editor