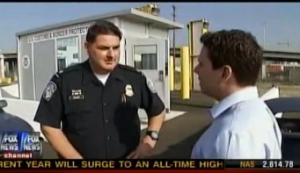 Today on Fox News Megyn Kelly and Trace Gallagher explored an embarrassing admission made by a Port of San Diego security officer who implied there were in fact weapons of mass effect found somewhere in San Diego. The Department of Homeland Security attempted to deny the officer's unintentional reveal by suggesting he was confused and nervous, but the tape suggests he may have been overcome with those emotions only after he spoke about the supposedly found weapon.
When asked by a local reporter whether he found any nuclear, chemical or biological weapons, the officer said "not at this location." The reporter persisted, "but they have found them?" The officer replied, "yes . . . well . . . " until he was interrupted by a Public Affairs representative. He then attempted to clarify his statement, "I would say that at the Port of San Diego we have not." The reporter smelling uneasiness, probed deeper, "have you found one in San Diego?" Clearly unsure how to respond, the officer was finally rescued from the awkward silence when the Public Affairs representative jumped in and wanted the questions to be limited to only the Port of San Diego.
Kelly accurately concludes if anyone should be nervous it's the public affairs people who allowed such a starting revelation to become public. And maybe a lot more people should be nervous because if such weapons were actually found, and that information was kept private, what else might the Department of Homeland Security be keeping from us?
Watch the clip from Fox News below:

Have a tip we should know? tips@mediaite.com