Fox News Savages Media For Turning Zimmerman Trial Into 'Soap Opera': They Want 'Another OJ Simpson'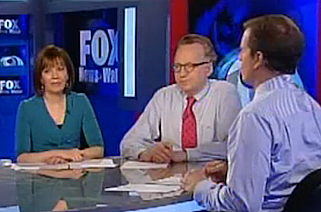 The difficulty in selecting a jury for the murder trial of George Zimmerman, and now the news that the jury will be sequestered, led Fox News Watch to wonder if the media had so overindulged its coverage of the investigation that a fair trial is no longer possible.
Fox News analyst Monica Crowley accused the media of already tarnishing the case. "We know that certain press outlets have gone to great lengths to try to put their own spin on this story, namely NBC, which was caught doctoring the audio of Zimmerman's initial call to police to make him look like a racist," Crowley said.
"Let's remember, too, that ABC's Matt Gutman was caught doctoring the surveillance video of George Zimmerman coming in to the police headquarters," foreign policy spokesman Richard Grennell added. "From the beginning, the television media has been outright terrible. They've decided to make this about race…Let's also remember that Obama interjected into this early on by saying if he had a son, it would look like Trayvon Martin."
"The media has caught up," rebutted founding editor-in-chief of MSNBC Merrill Brown. "Both sides of the story now are being told. Reverend Sharpton is no longer on the steps of the courthouse in Florida. The story has been told much more fully than it was at the time it took place."
RELATED: Fox's Shep Smith: Nobody Thought Zimmerman Jury Selection Would Be 'Easy,' But This Is 'Off The Chain'
"Joe Concha at Mediaite had a great take on how MSNBC in particular plans on turning this into a soap opera," said former Bush White House staffer James Pinkerton. "Phil Griffin, the head of MSNBC, said we really don't do breaking news around here. So this is what they do instead, longfrom soap opera. They would love to see the Trayvon Martin case be another OJ Simpson. I don't think the facts of the case will sustain that, but they're going to give it their best shot, including Al Sharpton."
"The question being raised here is about media profiling," journalist Judith Miller said. "In other words, have we already so tarred this man, do we have impressions so fully formed that it's going to be hard even to pick a jury that doesn't know about it?"
Watch the segment here, via Fox News:
—
>> Follow Evan McMurry (@evanmcmurry) on Twitter
Have a tip we should know? tips@mediaite.com