Fox News' Special Report Dominates Time Slot on Wednesday, MSNBC's The Beat Finishes 3rd in Demo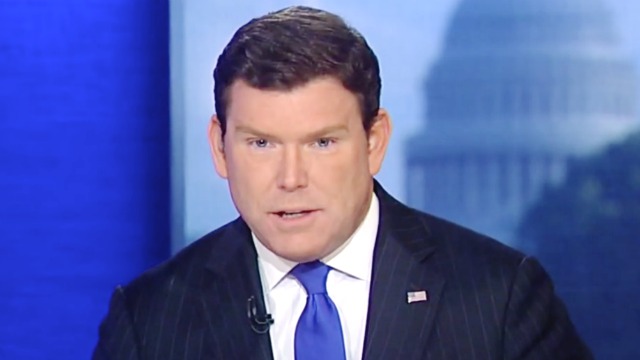 Fox News posted extremely strong numbers on Wednesday, leading across the board in total day viewership and primetime. The network's 6 PM news program, Special Report with Bret Baier, posted primetime-like numbers. Meanwhile, MSNBC's The Rachel Maddow Show again saw muscular numbers at 9 PM, though 6 PM's The Beat with Ari Melber finished in third in the key demographic.
According to Nielsen, Fox News averaged a sturdy 3.738 million total viewers and 802,000 in the 25-54 demo during the 8 PM to 11 PM primetime hours. Finishing second in both metrics, MSNBC pulled in a total viewership of 2.573 million and 587,000 in the demographic. CNN attracted 1.076 million overall viewers and 369,000 demo viewers.
Fox News' Hannity was the most-watched cable news program on Wednesday in both total viewers (3.945 million) and the key demo (853,000). Fox's 8 PM show, Tucker Carlson Tonight, was second overall in both metrics, pulling in 846,000 in the demo and a total viewership of 3.786 million. Hannity's 9 PM MSNBC competitor, The Rachel Maddow Show, finished third overall in the demo (751,000) and fourth in total viewers (3.212 million).
Special Report grabbed 3.04 million total viewers and 631,000 in the demo to not only easily led its 6 PM time slot but finished as one of the top viewed programs for the entire day. The Beat finished second in the time slot in total viewers (1.416 million) and third in the demo (248,000), as CNN's Situation Room took the silver at 6 PM for 25-54 viewers (319,000).
The most-watched CNN on Wednesday was 8 PM's broadcast of Anderson Cooper 360, which drew 1.126 million overall viewers. A special 10 PM broadcast of AC360 led the network in the demo as it pulled in 399,000 25-54 viewers.
[image via screengrab]
—
Follow Justin Baragona on Twitter: @justinbaragona
Have a tip we should know? tips@mediaite.com