Fox News Sunday's Chris Wallace Grills Democratic Senator On Obama's Support For Sequester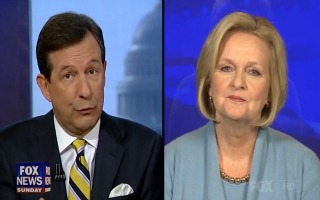 Fox News Sunday anchor Chris Wallace grilled Sen. Clair McCaskill (D-MO) regarding President Barack Obama support for the cuts outlined in the sequester. She was informed by Wallace that House Republicans in the last Congress passed two ways to make the sequester cuts less arbitrary, but the Senate has passed nothing. Wallace also reminded McCaskill that the president did not support the methods passed by House Republicans to soften the impact of the sequester.

RELATED: How Will The Sequester Impact Your Air Travel?
"Republicans say that the president isn't serious about cutting spending," Wallace said to McCaskill. He played a clip of Sen. John Hoeven (R-ND) who charged that Obama refuses to work with Congressional Republicans because he ultimately wants to impose still higher tax rates on the nation though the sequester.
"Sen. McCaskill, Republicans are talking about passing something this week that would give agencies, give departments, more flexibility to set priorities so that the cuts could be made according to what makes sense and what doesn't make sense instead of across the board," Wallace said.
"You have supported this idea, but the White House opposes transfer authority," Wallace noted. "What sense does that make?"
"You have, as usual, in Washington, a large kabuki going on about who can get blamed," McCaskill replied. She said that both sides of the aisle agree that the sequester cuts are thoughtless but that cuts are necessary. However, she expressed concern that, given the common ground, both sides could not agree on which specific cuts are necessary.
"We shouldn't be passing the blame to the executive branch, or saying 'this is Obama's sequester,'" McCaskill added. "Republicans supported this, I supported it – we need to come together and make the right cuts."
McCaskill urged Congressional Republicans to take an offer the president outlined which she says does tackle entitlement reforms as a way of enacting permanent spending cuts. "Let's get a big deal. Let's fund the government. Let's quit careening from crisis to crisis that, frankly, hurts confidence of investors across this country and hurts our economy," McCaskill concluded.
Sen. Tom Coburn (R-OK) said that the "crisis was made up," and insisted that spending cuts, even the sequester cuts, are necessary.
Watch the segment below via Fox:
> >Follow Noah Rothman (@NoahCRothman) on Twitter
Have a tip we should know? tips@mediaite.com