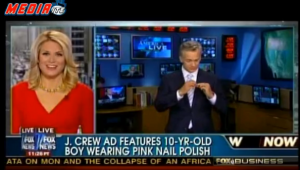 Yesterday, we told you about a Tweet sent by Fox News' official Twitter account, asking followers whether or not a J. Crew email ad showing a woman painting her son's nails pink was "crossing the line."
Today, America Live decided to tackle the same question by bringing on Trace Gallagher, himself a father of two girls, who shared that he wasn't even sure he'd allow his daughters to wear hot pink nailpolish. The show noted that "some parents" are "outraged" over the ad.
Fox News' go-to psychologist, Dr. Keith Ablow, weighed in on the ad:
It is unwise to dress little girls like miniature adults (in halter tops and shorts emblazoned with PINK across the bottoms) and it is unwise to encourage little boys to playact like little girls.
That's an interesting juxtaposition, we think – little girls wanting to dress like teens (it seems Dr. Ablow is referring to Victoria's Secret's "Pink" brand), versus little boys wanting to play or act like little girls. Why not also address little girls who prefer to play with, say, trucks instead of baby dolls, or who shun dresses and prefer short haircuts?
Jo B. Paoletti, professor at the University of Maryland and author of the book Pink and Blue: Telling the Boys from the Girls in America, meanwhile, sees things differently:
Lots of kids, say 7 and under, might ask their parents for something that would seem to cross gender, and I think most parents, especially in the privacy of their own home, might think, "What's the big deal?"
Sure, but… what does that mean for concerned parents?
Interim America Live host Martha MacCallum seemed to have a more nuanced take on the issue than Gallagher (who seemed amused, and maybe even a little disturbed, by the absurdity of the notion that a little boy would want to paint his nails pink), making the point that, sometimes, younger children may just want to emulate older siblings or, in this case, their mothers. That said, she was pretty sure her sons would "kill her" if she ever posted a picture of them wearing nailpolish.
This is such a good topic to explore, with lots of different voices and advice willing to weigh in on either side of the issue, that we have to admit we're a little disappointed with how dismissive Gallagher – and thus the segment as a whole – seemed of the whole idea. It just felt a little incomplete to us. Why bring up an idea ripe for debate, then dismiss it as being absurd?
Watch the segment, courtesy of Fox News, and let us know what you think:
Have a tip we should know? tips@mediaite.com