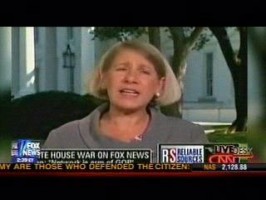 Fox News has found a good reason to keep talking about Fox news – they've got an escalating feud with the White House. And no amount of awkwardness is going to stop them from covering themselves.
It started with a news report by James Rosen this afternoon, continued with Neil Cavuto and was followed by Glenn Beck. Here's a look at the self-coverage:
"The Obama Administration is injecting a new wrinkle into the debate between the executive branch and the so-called fourth estate, by publicly setting its sites primarily on one specific news organization," said anchor Trace Gallagher before Rosen's report. "This one."
It's expected for FNC to cover the story – considering how much delight it has taken in irking the Obama White House. It's a strategy that is an extension of their current policy, as they play up the feud just as much as the White House is. From news to opinion, Fox News has their feud story covered.
The Rosen segment (via Johnny Dollar) is below. One note is that Rosen says a White House aide informed Fox News Pres. Obama would not be appearing on the network, and specifically any news programs, at all this year:


Here's Cavuto:

>>> NEXT PAGE: Glenn Beck's segment, and Brit Hume weighs in.
Have a tip we should know? tips@mediaite.com