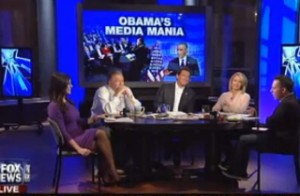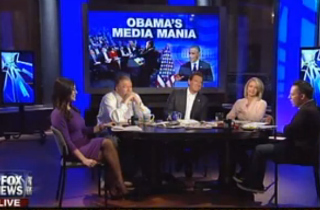 If you had said two years ago that Fox News would easily be able to come up with a 5 P.M. show as compelling (if not more so) as the Glenn Beck variety hour, you'd be treated with more than a skeptical eye. But after initially debuting as a summer replacement show, Fox's The Five has been on the air for two whole years this week, replete with heated back-and-forths, the occasional bizarre segment, and Bob Beckel dropping at least two of the Seven Dirty Words at least once a month.
The Associated Press has some details about the show's origins and why it quickly became Fox News' latest staple.
They shot two test episodes and ''the chemistry … was undeniable,'' [Andrea] Tantaros said. ''When they said it was temporary, I thought, 'Wow, but this is really fun.'''

Publicly, ''The Five'' was billed as a summer replacement series for Beck. It probably would have remained so if it didn't click. Instead, the summer essentially served as a successful pilot for a network that does not introduce many new shows.

It is averaging 2 million viewers so far this year, up from just under 1.5 million during its first six months, according to the Nielsen Co. Beck brought new viewers to a time slot usually considered slow, and now ''The Five'' has a larger audience than Beck had during his final year at Fox.
The show distinguished itself with a roundtable of hosts (Beckel, Eric Bolling, Kimberly Guilfoyle, Greg Gutfeld, Dana Perino, Andrea Tantaros, and Juan Williams) in a cable environment mainly centered around single-host shows. MSNBC ended up embracing the format roughly a year later with The Cycle, while CNN's attempt at the same format… well, it didn't work out so well.
—–
Follow Josh Feldman on Twitter: @feldmaniac
Have a tip we should know? tips@mediaite.com
Josh Feldman - Senior Editor