Fox's The Five Rips NY Gov. Cuomo Over 'Tonight Show Tax Break' For 'Rich Fat Cats'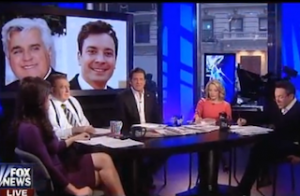 Earlier today, news emerged that New York state has put in place a large tax credit that would help NBC bring the Tonight Show to NYC next year with Jimmy Fallon as host. This afternoon, Fox News' The Five took Governor Andrew Cuomo to task for what they viewed as "handing over" free money to the network without any clear upside for the state.
The story appeared to be a pet issue of sorts for host Eric Bolling, who said he "broke down the numbers" and concluded that the state could end up giving NBC an estimated $24 million a year and that New York taxpayers won't be seeing any revenue back from the show. He asked the group, "Does NBC, Fallon and that crew of rich fat cats really need our tax money?"
Dana Perino cited Cuomo's move as a "great example" of why the country needs tax reform, saying that subsidies like this "benefit the rich" at the expense of the regular tax payer.
One provision of the tax credit that Perino and the other hosts could not quite comprehend was the requirement that the "hypothetical" show film in front on a studio audience of at least 200 people. They wondered why a show like The Five, which does not tape in front of a studio audience, would fall outside the parameters of the tax break, but the Tonight Show would be included.
They failed to note that shows taped in front of live studio audiences serve as tourist attractions that can increase revenue for the cities where they are shot. This is certainly the case for the Late Show with David Letterman, Late Night with Jimmy Fallon and others in New York, as well as the Tonight Show in Los Angeles.
Watch video below, via Fox News:
—
>> Follow Matt Wilstein (@TheMattWilstein) on Twitter
Have a tip we should know? tips@mediaite.com