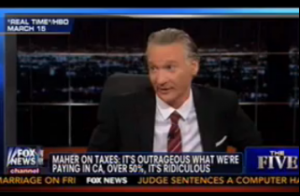 Last Friday on Real Time, Bill Maher proclaimed, "liberals, you could actually lose me." And Fox News' The Five has taken notice. The hosts dissected a series of statements Maher made during the latest episode of his weekly show, including the one above about taxes as well as comments about the state of Iraq and Mayor Bloomberg's failed soda ban and tried to determine whether he was being sincere with his right-leaning opinions.
The comments that had Kimberly Guilfoyle asking "who poisoned Bill Maher?" concerned California state taxes. "I just want to say, liberals, you could actually lose me," Maher said. "It's outrageous what we're paying. Over 50%. I'm willing to pay my share, but yeah, it's ridiculous."
She also appeared outraged by his willingness to give some small bit of credit to the Bush administration on the tenth anniversary of the beginning of the Iraq war. "I've got to admit, it's a country that's standing," he told panelists that included an equally outraged Rachel Maddow. "I thought it wouldn't be. It's actually doing better than I thought it would be. Is it a great country? No. Does it have a lot of problems? Yes. But there actually is a country standing there."
Eric Bolling couldn't believe what he was hearing from Maher, saying, "What an idiot. After all the vitriol and trashing of conservatives over the years, he has been taking indiscriminate shots at the right. Then he says taxes are too high in California and the Iraq war worked."
Guilfoyle wasn't buying that Maher was sincere in his seemingly new opinions, but Dana Perino argued that these comments seemed more "sincere" than some of his broader attacks on the right. While his statement don't all of a sudden make Maher a conservative, perhaps they show him to have more "realistic" views than most people give him credit for, especially on the tax issue.
For his part, Bob Beckel said "good riddance" if Maher wants to leave the liberals and called his comments on Iraq "the most outrageous turnaround I've ever seen," citing the recent deterioration of that country and adding, "how Maher can say that is beyond me."
Finally, on Maher's opposition to Bloomberg's soda ban, the panel couldn't find too much to criticize there. There are very few people, besides Bloomberg himself, left defending that policy now that a judge struck it down as "arbitrary and capricious."
Maher has referred to himself as a "libertarian" in the past, which fits nicely with his biggest issue of marijuana legalization, along with these newer comments on taxes and the soda ban. He has grown significantly more "progressive" in recent years, which makes his remarks about Iraq so unexpected. But as someone with a lot of strong opinions, which don't necessarily fit neatly into one political party's platform, how surprised should the Fox News' hosts have been?
Watch video below, via Fox News:
—
>> Follow Matt Wilstein (@TheMattWilstein) on Twitter
Have a tip we should know? tips@mediaite.com