Fox News Warns That NY Snow-Cleaning Union Protest Could Be Coming To Your Town Next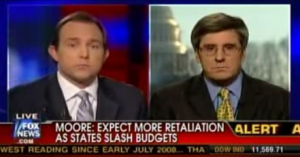 The saga of why parts of New York remained inescapably covered in snow days after this weekend's blizzard got a strange twist this morning when The New York Post reported City Councilman Dan Halloran's claims that sanitation workers had admitted to him that the slow clean up was part of an intentional protest by the unions over budget cuts. On Your World today, Brian Sullivan (in for Neil Cavuto) brought on Halloran to discuss his story as well as the Wall Street Journal's Steve Moore who warned that these kind of union pseudo-strikes could pop up all over the country in the coming year.
The story goes that sanitation workers in Halloran's district in Queens came to him to tell him that their union leaders had specifically instructed them to delay the clean up so as to protest months of budget cuts and demotions. They were told to only stick to streets on their routes, avoid some of those streets, keep their plows slightly above street level so as to clean less, and just stay home until specifically told to.
Obviously these claims are huge allegations and, as such, are ones that many people are handling delicately. Mayor Bloomberg has ordered an investigation but, in a press conference, deliberately said he didn't "think [the delay] took place." Halloran told Sullivan the Mayor was being "circumspect."
Moore then came on to deliver the grim prognosis about whether or not there'll be tons more towns all be under the thumb of evil union plots by the end of next year:
"I hope not but I wouldn't be surprised if there are. Just as I said, you know, states are facing some of their biggest budget deficits in history. Same thing with municipalities. They have to cut back on some of these work force issues."
Bright side? More awesome snowy viral videos.
Check out the segment from Fox News below:
Have a tip we should know? tips@mediaite.com