Fox News Watch Covers News Corp. Hacking Scandal, Panelist Slams 'Liberal Media' Coverage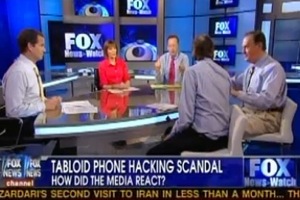 Last week Fox News' media criticism show barely mentioned the media scandal involving the news network's parent company, News Corp. This week Fox News Watch more than made up for it, devoting two segments to the controversy, with Alan Colmes in particular pulling no punches in discussing the details of the story and the potential involvement of his boss, Rupert Murdoch.
Jim Pinkerton assessed the situation and said the people who hacked the phones for Murdoch's British newspapers shouldn't be called journalists. Pinkerton also concluded, "in the annals of damage control [Murdoch's response] is pretty good," given that the News Of The World was shut down, executives have left the company and Murdoch will testify in front of the British government.
Yet Colmes and Cal Thomas sparred about whether or not the "liberal media" was making a larger case out of the scandal than it should be. Thomas argued the coverage has been "the biggest case of piling on [because] the Left has been out to get News Corp., especially Fox News Channel and the Murdoch family for years." Colmes reminded Thomas that even Republican Congressman Peter King is calling for an investigation of News Corp. in America.
And Colmes replied "there has to be personal responsibility and stop blaming the Left and the liberal media like it's the liberal's fault that this happened." Thomas insisted that commentators like MSNBC's Martin Bashir have been so over the top, while others seem to be covering the story with glee. Yet Colmes preferred to listen to that "famous" political analyst Hugh Grant who voiced his appreciation for the fact that British politicians are no longer competing to suck up to Murdoch. Although host Jon Scott delicately reminded Colmes that Grant is no "paragon of morality" given his own checkered past.
Watch the clip from Fox News below:

Have a tip we should know? tips@mediaite.com