Fox News Watch Mocks Media's 'Overkill' Coverage Of Zimmerman Trial: 'So Clearly Sad He Might Get Off'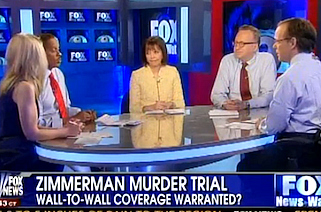 This Saturday's Fox News Watch panel has had just about enough of the George Zimmerman case, unanimously agreeing that the case is over-covered, especially with events in Egypt and elsewhere vying for national attention. "With all this stuff going on in the world, Egypt, Obamacare, NSA, this is wall to wall," said guest host Eric Shawn.
"All we're seeing is Zimmerman, Zimmerman, Zimmerman, Trayvon Martin," Judy Miller added, noting that this week also featured Obama's trip to Africa, Nelson Mandela's declining health, and the death of nineteen firefighters in Arizona. "I'm sorry, I think it's overkill. I know it gets ratings, but it doesn't reflect what the country should be thinking about."
"I think you just hit it on the head," Shawn said, and pivoted to a theory, advanced by Joe Concha, that MSNBC would attempt to revitalize its flagging ratings by owning the Zimmerman trial. "One of the networks is running it all the time, and they're getting zoomed up to number one."
"The disappointment on MSNBC on this case, as the case falls apart, as Noah Rothman of Mediaite wrote, is just palpable," Jim Pinketon said, referring to this piece. "You can see them so clearly sad that Zimmerman might get off."
RELATED: Fox News Savages Media For Turning Zimmerman Trial Into 'Soap Opera': They Want 'Another OJ Simpson'
Both Juan Williams and Monica Crowley credited the story's unique persistence to its position directly over a racial faultline.
"I think it's race, and I actually think it's not in the trial but in us, Williams said. "The fascination with the American mind has forced it so that now conservatives say they are pro-Zimmerman, liberals say they are pro-Martin…It's the most primitive, low-level racial division being played on by media."
Richard Grennell blamed the media for preemptively deciding upon Zimmerman's guilt contrary, a judgment he feels has been overturned in the process of the trial.
"When the media come in and they decide a case before we even start hearing the facts, I think then the American public gets outraged at the media," Grennell said.
Watch the exchange here, via Fox News:
—
>> Follow Evan McMurry (@evanmcmurry) on Twitter
Have a tip we should know? tips@mediaite.com