Fox News Watch: News Corp Scandal Is A Story Because Murdoch Is 'Larger Than Life'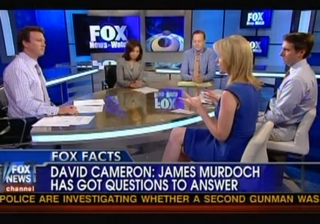 As the network's main media analysis show, Fox News Watch has taken the most heat for its coverage of the News of the World phone hacking scandal. This week, they had plenty more material to work with– Rupert Murdoch's testimony to Parliament and the feud between a British MP and CNN host Piers Morgan taking up the bulk of the conversation. While concluding crimes must be paid for, the panel agreed that other media entities were "piling on" to News Corp out of a sense of competition.
Host Rick Folbaum proposed to the panel whether the coverage of the scandal was well warranted. The panel seemed to agree that it was worth covering, but to what extent remained to be determined. Panelist Rich Lowry suggested that it was worth mentioning, but not a top story– to get an exclusively British story on the front page of the New York Times as much as this one has been, he joked, "you'd need the Queen to abdicate or a plane to hit London." Kirsten Powers agreed the coverage in some forums had been from "a lot of people that are wanting to see tha this is the thing that takes Rupert Murdoch down," was still a worthwhile story. Meanwhile, Ellen Ratner defended the story enthusiastically, noting that it was the story of story where "we don't know how it's going to end," and that, as its plot was driven by "larger than life characters" like Murdoch and the News Corp team, it made for compelling coverage.
The panel then turned to the Parliamentary hearings themselves this week and whether they provided any particular news fodder, or a "gotcha moment" for Murdoch's foes. "A gotcha moment defined as something dramatic and live on television?" asked Jim Pinkerton, thus answering, "I guess the pie" to laughter. He also noted the coverage of the pie incident was not up to his tastes– "some nitwit at MSNBC felt obligated to say the Murdochs must've been behind the pie thrower," he scoffed.
The panel also discussed the role of CNN anchor Piers Morgan in the scandal, and his support of Murdoch over Twitter, which Folbaum suggested "sort of nailed it." Lowry replied that Morgan "as a stake in this fight," as his book exposed certain practices on Fleet Street that were not quite exclusive to Murdoch (though Morgan had edited News of the World in the past). Ultimately, Lowry concluded, it was crime that needed policing, not "the media or media culture."
The panel discussion via Fox News below:

Have a tip we should know? tips@mediaite.com