Fox News Watch On Ed Schultz: 'If He Were A Conservative, He Would Have Been Fired'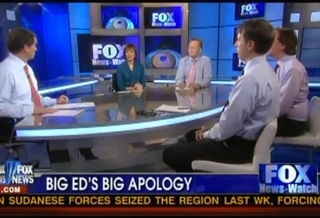 After calling fellow radio host Laura Ingraham a "slut" on his radio program, Ed Schultz received a week-long suspension from MSNBC and gave an extended apology on his program. But many, especially on the right, are suggesting he got off easy with only a week of punishment. Today's Fox News Watch panel mostly arrived at that conclusion with one notable exception: Alan Colmes, who argued that Rush Limbaugh made a career out of far more offensive comments.
While the consensus among the panel was that the apology was sincere (National Review's Rich Lowry joked "he could've dumped ashes on his head"), it was the executive decision of keeping him that struck a chord. Judith Miller argued, quoting colleague Andrea Tantaros, that "the last acceptable form of prejudice was trashing conservative women," and the suspension proved it." Fellow panelist Jim Pinkerton added that "if this were a conservative, he would've been fired," and the suspension presented a double standard.
Here, Colmes jumped in to note that Limbaugh makes "outrageous statements, racially tinged statements all the time." "He can't fire himself," Pinkerton replied, though Colmes retorted that Limbaugh is still hired and given speaking fees by others in the industry. Among other cases of incivility, Colmes also cited right-wing rock person Ted Nugent's command to President Obama to "put his gun in his mouth and suck on it," to which again Pinkerton replied, this time calming Colmes down by assuring him "Nugent will never have a show on Fox."
The discussion via Fox News below:

Have a tip we should know? tips@mediaite.com