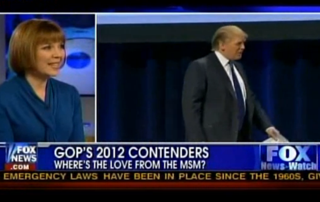 It's not even summer 2011 and the media is already having a ton of fun with potential presidential candidates from 2012– perhaps a little too much fun. Citing media figures comparing candidates to, among other things, dogs and clowns, the Fox News Watch round table evaluated whether candidates were being treated fairly, if not kindly, by most media sources.
Host Jon Scott began the segment with a quote from Chris Matthews, claiming that the current GOP contenders "sound more like a dog pound than it does a group of people running for President." Most of the table agreed that such treatment of the possible candidates was prevalent and unacceptable, with Jim Pinkerton citing our own Alex Alvarez's work pointing out MSNBC host's Cenk Uygur's physical insults at Rep. Michele Bachmann. While everyone at the table condemned that behavior, Alan Colmes made a point to remind the panel that, on the right, Rush Limbaugh speaks offensively about the First Lady as well, and has called Obama voters "vile savages and human refuse."
The panel met that with some contention, claiming that they too condemned such rhetoric on the right. Panelist Andrea Tantaros argued that the personal attacks were "the last acceptable form of prejudice," harping in particular on Matthews: "I didn't know that Chris Matthews was being drafted for the Chippendale's."
As for Donald Trump, whose campaign host Scott described as "making noises," Judith Miller described his rise as a testament to "the flatness of the Republican earth around him," to which most of the panel agreed, but not without noting that the media had perhaps taken the ridicule too far. Here again, Colmes dissented. "Donald Trump was on every Fox show," he noted, arguing that "it's not just the liberal media.
The segment via Fox News below:

Have a tip we should know? tips@mediaite.com