Fox News Watch Panel: Franklin Graham 'Twists Religion To Suit His Politics'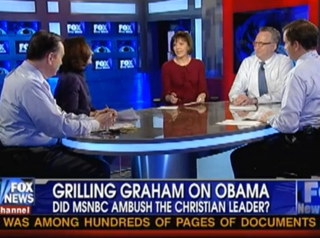 Earlier in the week, Rev. Franklin Graham went on Morning Joe and made some troubling comments about President Obama and his maybe-kinda-sorta Islamic tendencies. These were problematic for obvious reasons, but the Fox News Watch panel this afternoon gave him some benefit of the doubt for not having come on the program to talk politics, but to talk about persecution of Christians abroad. Nonetheless, they noted his tendency to "twist religion to suit his politics," one they discouraged.
RELATED: Watch Franklin Graham Question President Obama's Faith, Explain Why Mormons Aren't Christian On Morning Joe
Jim Pinkerton noted that Graham did not give very good answers to the questions about the Presidents' faith, but "he's there to talk about people getting murdered and killed and raped and all MSNBC wanted to talk about was these faith questions, which admittedly Graham didn't handle particularly well." Nonetheless, "it was definitely an ambush" since "the media couldn't care less about the persecution of Christians around the world." Ellen Ratner agreed. "He should have refused to talk about it," he advised, and the panel mostly agreed that he should not be involved in politics.
While Cal Thomas noted what he called a "double standard" of left-wing versus right-wing preachers, he noted that every time his father, Rev. Billy Graham, got involved in politics, it never ended well. "He ain't his father's son," Judith Miller added, echoing Chris Matthews, and accused him of "twist[ing] religion to suit his politics." "Unlike Jesse Jackson and Al Sharpton," quipped Thomas.
The segment via Fox News below:

Have a tip we should know? tips@mediaite.com