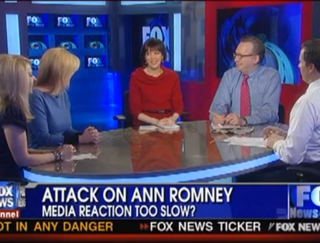 Given its objective to cover the week's biggest news stories, the Hilary Rosen/Ann Romney feud took up plenty of time on Fox News Watch today, as the panel explored the connection between Rosen and the White House and the perceived fallacies of her logic. On the program today, Jim Pinkerton and Judith Miller noted that 35 visited to the White House made her more than a friend to the administration, while Kirsten Powers argued that, by Rosen's logic, First Ladies Michelle Obama and Hillary Clinton shouldn't have a say in politics, either.

RELATED: Huckabee On Hilary Rosen's Comments: 'Never Seen Democrats Swim Backwards So Much'
Pinkerton joked that the White House's defense on Rosen was, "I haven't seen her in years very frequently," comparing the situation to the 1884 presidential election, where "a Republican clergyman said the Democratic Party was a party of Romanism and rebellion, and that tipped the election [to the Democrats]," which seemed to leave a panelist or two scratching their heads. Miller added that the way Democrats had handled the situation didn't help them at all– "we've now had an apology, then a second apology, she's not going to be on a Sunday show…
this was a huge misstep for them," she concluded, given the figures with women voters for Democrats. Monica Crowley agreed, describing the situation as a "grenade" thrown into a narrative that Republicans were anti-women.
Kirsten Powers, who wrote a column this week attacking Rosen's point of view, thought the logic of it could be crippling to Democrats. "As if Hilary Rosen is a common working person, it's so absurd," she objected, noting that "if you follow this reasoning, Michelle Obama, Hillary Clinton, Elizabeth Edwards… shouldn't be out talking about women."
The segment via Fox News below:

Have a tip we should know? tips@mediaite.com