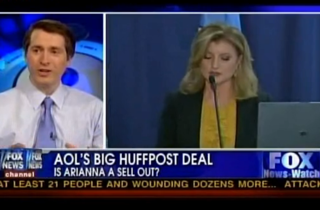 The post-Super Bowl news drop that AOL and the Huffington Post were merging into the most bizarre internet media conglomerate in recent memory took most of those in the news world by storm, and the Fox News Watch panel appeared as confused as anyone else. While many questioned the size of the merger and the potential impact on content already part of the AOL media network, the main question for the Fox News Watch team concerned Arianna Huffington's recent comments on objectivity– namely, that she practices it.
Yes, her positive comments on the merger, as host Jon Scott notes, conflict with previous notes that large media corporations are dangerous for competition among the press. But the panel was far more interested in what will happen to the ideology of the Huffington Post. National Review editor Rich Lowry expressed particular concern in how lucrative a site HuffPo would be without being slanted. "She created a traffic monster" with her liberal slant, he noted, and now is "basically defining her left-wing views as neither left nor right." He then, somewhat surprisingly, argued that objectivity would be a detriment to her efforts. "It would be a mistake for the site to lose its left-wing identity, because I think that's really the glue of its community, but she is correct," he added, somewhat in jest– "pictures of scantily clad models have no ideology one way or another."
His fellow panelists offered no objection to the scantily clad models, but certainly expressed similar concerns. Jim Pinkerton, in particular, wondered how that ideology would translate to websites like TechCrunch or Mapquest, arguing that those sites wouldn't take orders from "some limousine liberal in New York." Alan Colmes, meanwhile, complimented the merger, and interjected that Huffington lives in California, for what it's work. "She's showed herself to be a great businesswoman," he noted, regardless of the outcome.
The discussion via Fox News below:

Have a tip we should know? tips@mediaite.com