Fox News Watch Panelists Defend Game Change: 'Palin Was A Sympathetic Figure'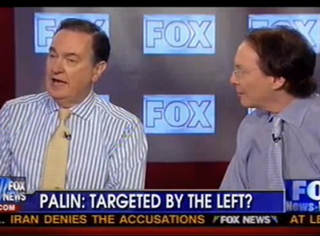 Sarah Palin may be not all that happy with the portrayal of herself in the HBO film Game Change, but some of her colleagues on Fox News Watch admitted today that the film made them feel warmer towards her and more respectful of the very difficult challenge before her in 2008 as a recent mother and, for the most part, complete unknown– not to mention, becoming one of the leading female voices in the Republican Party almost overnight.
Host Jon Scott opened the discussion citing the "war on Sarah Palin," but Cal Thomas, who spoke first on the matter, said that he found the movie "very well-done," and while some might find it shocking, he thought better of Palin for watching the film– not because it demonized her, but because it did precisely the opposite. "She was put into a situation she was not prepared for, she was not able to be a quick study on a lot of the issues, forced out in front of interviewers like Katie Couric," he noted, particularly "less than a year after having a baby," in a way that many would not have been able to do well in.
Judith Miller noted that Palin, too, had an uphill battle as one of the only women in her position. "Sarah Palin is the exception" in a male-dominated party, she noted, and when Republican women in politics are given so little attention, "what does that say to American women? It says 'our voice doesn't count.'"
The segment via Fox News below:

Have a tip we should know? tips@mediaite.com