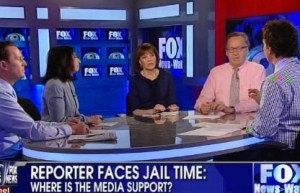 On Saturday's Fox News Watch, a panel led by guest-host Rick Folbaum discussed the case of Fox News reporter Jana Winter finally getting some attention by the mainstream media. Winter's exclusive July 2012 story revealed the existence of a notebook James Holmes, the accused in the Aurora theatre shooting, allegedly sent to a psychiatrist five days prior to the shooting. Winters is being pressured by Holmes's lawyers and the case judge to reveal her sources and faces possible jail time. Winters has steadfastly refused to divulge her sources, citing her rights as a journalist to preserve her sources, but, until recently, her plight had received little attention.
Journalist and Fox News Contributor Judith Miller, who penned an article defending Winter, credited social media as well as others who brought light on the matter, including BuzzFeed's Hunter Schwartz (who wrote about the absence of media coverage on the story), MSNBC's Joe Scarborough, and CNN's Jake Tapper. Miller warned that this lack of coverage can happen "when reporters aren't paying attention." (She famously experienced a similar situation in 2005, when she was jailed for contempt of court for refusing to testify regarding the leak naming Valerie Plame as an undercover CIA officer.)
Richard Grenell, political commentator and former spokesman for four U.N. Ambassadors, lamented how "for some reason, the mainstream media didn't seem very interested" previously in Winter's story. Grenell explained the importance of respecting the anonymity of journalists' sources, describing it as an integral part of journalists' ability "to get the story out."
Folbaum noted how some have said that if Winters worked for any outlet other than Fox News, the story would have received broader attention. Ellen Ratner, Bureau Chief of The Talk Radio News Service and Fox News contributor, agreed, citing Mediaite's column this week by Noah Rothman, in which Rothman praised Fox News for 'shaming the media into covering Jana Winter's First Amendment fight.' Ratner noted that everyone at Fox News, regardless of political views, supported Winter because "people don't understand that we [at Fox News] may have different viewpoints, where we come from politically, but we all understand, I hope, [that] we're journalists." Jim Pinkerton of The American Conservative Magazine praised the media's coverage now, calling it "the finest hour of the media" and adding there are other similar cases, such as that involving the Franklin Center for Public Integrity now being sued by Terry McAuliffe for $85 million dollars over an investigative series the conservative group produced involving green-energy company failures. McAuliffe, former chairman of the Democratic National Committee, was founder of the largely criticized GreenTech Automative.
Miller added she is hopeful the judge in Winter's case "will do the right thing" and respect Winter's right to maintain her confidential source.
Click below for the Fox News Watch segment, courtesy of Fox News:
Follow AJ Delgado on Twitter >>> @missADelgado
Have a tip we should know? tips@mediaite.com