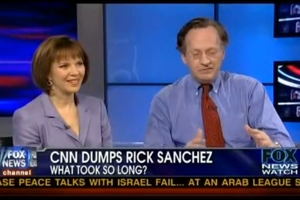 The fallout from Rick Sanchez-gate continues a week later, and the crew at Fox News Watch is watching in awe as the former CNN anchor tries to repair his career and takes all the blame off the shoulders of his ex-employer. The panel wholeheartedly disagree with Sanchez's self-effacing: it's CNN's fault, they conclude, for giving him a platform to begin with.
Yes, the chyron for this segment reads "CNN Dumps Rick Sanchez– What Took So Long?" There's not much mincing words here. Fox News contributor Judy Miller argues that, despite the fact the comments were anti-Semetic, "it was the Jewish leadership of CNN that gave him two hours to do his thing," and thus deserved the backlash. Alan Colmes, after jokingly thanking "Uncle Rupert" for "letting me come here and sit" despite being Jewish, argued that the comments seem to have little to do with the fact that Sanchez got fired: "there's probably a backstory here we don't know." He also, contrary to most of the panel, argued that Sanchez probably didn't deserve to get fired for those comments exclusively.
Meanwhile, panelist Jim Pinkerton looked towards the future: "[Sanchez] is clearly angling for a job at Univisión or Aztec [sic] or something," wondering why he would attack Jon Stewart at all, who he calls a "decent, fair-minded, funny guy." The panel concludes that the change in tune at CNN will probably benefit them, and seem rather optimistic for their competitors, though no one dared bring up Parker Spitzer.
The clip from today's Fox News Watch below:

Have a tip we should know? tips@mediaite.com