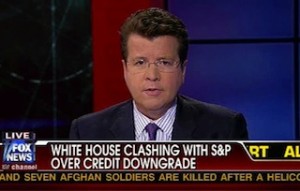 A generally accepted rule of cable news is that executive, producers and on-air talent truly earn their salaries when big news breaks during the weekend. And if that weekend happens to be right in the middle of the vacation-friendly month of August, then that axiom is even more true, as was the case last weekend when the S&P controversially downgraded the U.S. credit rating. While CNBC stayed in tape all weekend, Fox News and Fox Business saw it as an opportunity to get a jump, and their aggressive reportage earned them record weekend ratings.
On Saturday, the morning following the credit downgrade, Fox News' Neil Cavuto anchored the highest-rated program on cable news for the entire weekend. Anchoring another straight weekend of live financial news, his two-hour financial special, The Cost of Freedom averaged 1,544,000 in P2+ and 434,000 in 25-54. Not only was Cost of Freedom the highest-rated program in total viewers this weekend, and was the second highest rated program in the demo for the weekend out of all networks (Fox & Friends Weekend had the highest demo out of all networks).
It's not necessarily news when Fox News outperforms its competitors, however on a late summer weekend when serious news breaks, its worth noting which news outlets stepped up and who stayed at the beach (and in tape.) Skeptics can reasonably suggest that Fox News demographics is particularly interested in the credit downgrade and its political impact. And Cavuto doesn't always play the role of traditional news anchor, quite often his hosting on his weekday program crosses over to the world of analysis and commentary. So while it shouldn't come as a huge surprise that his loyal audience would tune in to watch him cover a credit downgrade — which supported his ongoing suggestion that the current administration is in fact bad for the economy — he still deserves a ton of "credit"for out hustling his competition while they lounged at the beach.
Have a tip we should know? [email protected]