Fox News WH Correspondent: Some Of Our Commentators Covered Benghazi 'More Than It Needed To Be Covered'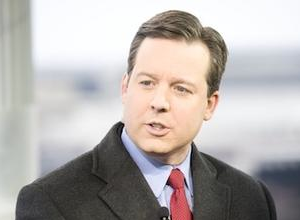 Ed Henry, Fox News' White House correspondent, spoke about his job and his network in an Associated Press story published on Thursday. Among the topics covered in the piece was Fox News' attention to Benghazi. The network covered the issue "more than it needed to be covered," Henry said.
It's hardly gone unnoticed that Fox News has consistently and critically covered the attack on the U.S. consulate in Benghazi — questioning the Obama administration's response. UN Ambassador Susan Rice, in particular, has taken heat for the comments she made on Sunday talk shows.
"Henry rejects the notion that he works off Fox marching orders in discussing the issue," the AP story notes. He told them, "I wouldn't lie to you. I see that we're covering Benghazi a lot, and I think that should be something that we're asking about."
He went on to compare Fox News' coverage of the issue with that of other networks:
He said other news outlets have under-covered the story, since four Americans were killed and there's still some mystery about what the administration knew and when they knew about the attack.

"We've had the proper emphasis," he said. "But I would not be so deluded to say that some of our shows, some of our commentators, have covered it more than it needed to be covered."
Henry also commented on some of the critical attention that comes with working under the Fox News name, and "suggested that MSNBC host Chuck Todd, who also works for NBC News, doesn't get the same level of critical attention paid to his work even though MSNBC is clearly slanted left."
"Now if you shout a question at Obama, you're somehow seen as a bad guy," he said. "I think some people have been cowed."
Indeed, Henry has had a couple tense moments with the president:
At one, Henry asked Obama why it had taken the president several days to express anger about bonuses given to AIG insurance executives. Obama responded that "it took us a couple of days because I like to know what I'm talking about before I speak."

When Henry asked Obama to respond to a Romney comment that "if you do not want America to be the strongest nation on Earth, I am not your president," Obama said that, "I didn't know you were the spokesman for Mitt Romney."

The first incident happened while Henry worked at CNN, the second when he was at Fox.
Read the full article over at the Associated Press.
Have a tip we should know? [email protected]