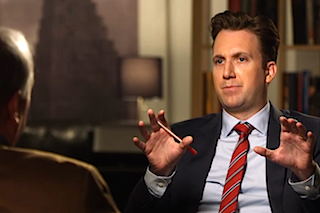 From Eric Bolling to Greta Van Susteren to Sean Hannity, Fox News is full of anchors who think The Daily Show is nothing but left-wing bias masquerading as a critically-acclaimed, award-winning comedy show. So this segment from last night's program, which turns the tables by poking fun at an atheist activist, should have Fox hosts smiling today.
Daily Show correspondent Jordan Klepper took aim at the Freedom from Religion Foundation's Dan Barker, who also recently appeared on Fox to defend his crusade against a restaurant that is giving 15% discounts to diners who "pray" before they eat. "Under the law, Selma and a 15% discount are the same thing," Barker told Klepper, comparing the Civil Rights marches of the 1960s to the plight of atheists who want a couple of bucks off their lunch. "In one case it's race or skin color, in another case it's religion."
Over the course of the segment, Klepper talks to Mary Haglund, owner of Mary's Gourmet Diner, who told him that a simple "thank you" or even a deep breath from a customer is enough to receive the discount. He also spoke to two atheist patrons of the diner who said they were not offended by the rule and found ways to take advantage of it in a non-denominational way.
"You're not just being a dick, are you?" Klepper asked Barker. "Look, I'm an atheist, alright? I get it. We need someone fighting the good fight. Is this a good fight?"
At that point, Barker compared the diner discount to genocide.
"In the end, maybe we'd all be a little better off if Dan just lightened the fuck up," Klepper concluded.
Of course, this is not the first time The Daily Show has aimed its critical lens at atheist activism. Back in 2011, Jon Stewart went off on atheists for trying to block a cross made from the beams of the World Trade Center from being exhibited at a Ground Zero memorial. "By the way, atheists, why do you give a shit?" he asked.
So, when Stewart or his correspondents mention Fox in a negative light, the network's hosts typically can't wait to fire back on air the next day. You would think at least one Fox host would take the opportunity today to praise the show for aligning itself so clearly with their agenda. So far, this segment hasn't gotten any play on Fox News. And there's a good chance it never will.
Watch video below, via Comedy Central:
[Photo via screengrab]
— —
>> Follow Matt Wilstein (@TheMattWilstein) on Twitter
Have a tip we should know? tips@mediaite.com