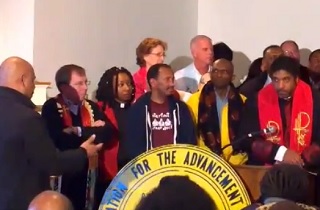 On Monday night's edition of Fox News' Hannity, host Sean Hannity played some extensively, and transparently, edited video of Fox News contributor David Webb questioning Reverend William Barber of the North Carolina NAACP on comments he made about Sen. Tim Scott (R-SC). Although the Hannity segment was nearly ten minutes long, only a fraction of Rev. Barber's two-minute reply was included, but fortunately, raw video and audio of the event is available.
Fox News contributor David Webb traveled to the Forward Together Moral March in Raleigh, N.C., this weekend in order to ask Rev. Barber about comments he made likening Sen. Tim Scott to a ventriloquist's dummy. The result of that visit was played on Monday night's Hannity program, but as is often the case in the time-constrained news business, only about 25 seconds of Rev. Barber's response made it onto the show. At a press conference following the march, Webb asked, "Do you feel you owe Senator Tim Scott an apology for calling him a ventriloquist's dummy, and black conservatives mouthpieces for the tea party?"
From there, the Hannity tape flash-cuts to Rev. Barber responding, "It's my job, it's my calling, it's the job of the NAACP to speak the truth about public policies," then cuts again to Barber, who said, "And while some people may choose to get caught up on a metaphor, that is a regular usage of preachers, the real indignation and upsetness should be over the regressive agenda."
Hannity then cut to Webb pressing his questions, as the Moral Marchers ask to move on.
Missing from that tape was Reverend Barber's description of the policies that he objects to, including "policies that hurt voting rights, policies that hurt working people."
"If you're going to get upset," Rev. Barber said, "get upset over the denial of the Medicaid expansion. Get upset about voting to reject unemployment benefits for laid-off workers who are Republicans, who are Democrats, who are black, who are white. Get upset over reduced access to public education and funding. We are in the 60th year of Brown versus Board of Education, and some want to go backwards on public education, rather than forward. Get upset over the attacks to turn back voting rights that were won with blood, sweat, and tears."
"My critique," Rev. Barber said, "was about public policy, not party."
Here's extended video of those remarks, via Make it Plain:
In the even longer full audio that MIP  has posted, Barber continued to speak passionately about the "moral calling" he feels to challenge "extreme policies," and Webb can be heard further pressing Barber about his Tim Scott remarks, until someone in the crowd yells "We'll speak for him, as the people of North Carolina. No, we don't apologize."
[h/t IJR]
Have a tip we should know? tips@mediaite.com