Fox Panel Battles Over McCain Asking Whether David Gregory And Media 'Don't Care' About Benghazi Victims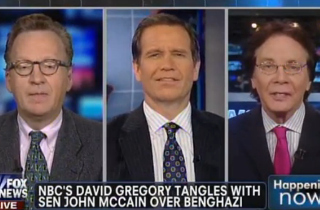 This afternoon, Fox's Happening Now panel debated what Sen. John McCain characterizes as an Obama administration cover-up of its handling of the Benghazi attacks, and whether the media's lack of questions about the attack is tantamount to "not caring" about the American officials killed in the siege.
On Meet the Press this weekend, McCain asked host David Gregory "Do you care whether four Americans died?" after Gregory challenged the senator's assertion that there is an administration-wide cover-up on Benghazi.
On Fox, conservative columnist Jim Pinkerton defended McCain, adding that Gregory was "certainly defending the Obama administration, which is kind of par for the course for NBC."
Host Jon Scott asked whether if Benghazi had occurred under President George W. Bush the media would've been demanding more information.
Liberal commentator Alan Colmes said no because the media didn't demand more information back when numerous attacks occurred on embassies and consulates under Bush's presidency. Colmes also cautioned that Gregory's questioning of McCain's logic does not mean the NBC host does not care about the death of four Americans.
"It was totally out of line," Colmes said of McCain's reaction.
Scott retorted that "it doesn't seem the media is that concerned about the first death of an American ambassador in 30 years."
"That's absurd," Colmes responded. "To say that people aren't concerned about the death of an ambassador simply because it seems like the right wing is playing gotcha here, they are trying to 'Swift Boat' Barack Obama and the administration, they are holding up the confirmation of Chuck Hagel who had nothing to do with Benghazi over this issue, it's ridiculous."
"That is sort of a fair trade," Pinkerton said of Hagel's nomination being held up as a way to get more answers on Benghazi.
"They are connecting dots that don't exist," Colmes said.
The panel topic then turned to whether it was appropriate for Meet the Press to have Chris Matthews on as a panelist comparing GOP Sen. Ted Cruz to rabid anti-communist Joe McCarthy.
"Why is it not okay to have Chris Matthews, but it is okay to have Carly Fiorina?" Colmes asked. If you have one, you have the other — isn't that fair and balanced?"
Watch below, via Fox:
— —
>> Follow Andrew Kirell (@AndrewKirell) on Twitter
Have a tip we should know? tips@mediaite.com