Fox Panel Battles Over Political Impact Of Biden's Fiery Speech Attacking Rich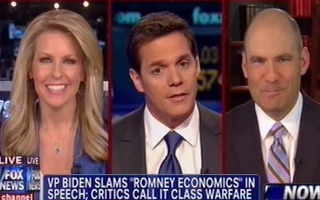 Fox News Channel's host of America's Newsroom Bill Hemmer hosted a panel discussion on Vice President Joe Biden's stump speech in Ohio on Wednesday where he adopted a combative tone. Conservative columnist Monica Crowley and former aide to Sen. Chuck Schumer (D-NY) Chris Hahn debated Biden's style and substance.

RELATED: Joe Biden Goes Nuclear On Rich During Speech At Campaign Stop
When asked by Hemmer what she thought of the style of the speech, Crowley honed in on what she believed is a double standard in the coverage of Biden's new tone.
"If a Republican had acted this way Democrats like Chris would be calling him a nut, but since it's Joe Biden everybody goes, 'it's just Joe,'" said Crowley. "That was sort of Howard Dean-esque, but again that's just Joe. On the substance of this, this is a classic Joe Biden, Class-Warfare, Obama-esque freak out."
Hahn said he thought "the style was great" in the Biden address. "This election is going to be decided by a very small percentage of voters in a couple of states. Most of them work in factories like that. Most of them will never fly in a private jet. Most of them understand that the Republican policies that Mitt Romney is trying to pass along hurt them."
Crowley and Hahn engaged in a back-and-forth over the national debate over substance, with both accusing the other party of not wanting to address the biggest issue on voters' minds – in particular, the state of the economic recovery.
Hemmer interrupted, "why is he screaming at the people who support him?"
"Are you okay with that," Hemmer asked Hahn. Hahn hedged, but Hemmer pursued the question: "just yes or no, are you okay with that," Hemmer asked again.
"I thought it was passionate," said Hahn. "I'm very cool with that."
Crowley said that Biden was doing what he is on the Democratic presidential ticket to do; reach out to and embrace blue-collar, Rust Belt State voters. Crowley went on to say that 80 percent of millionaires did not inherit it, and said that Biden's line, "my mother dreamed as much as any rich guy dreams," misses the mark as an attempt to reach out to that demographic.
"75 percent of billionaires inherited their wealth," Hahn countered. He said that Romney's brand of capitalism turns off those voters in the Midwest more than Biden's animated speech.
Watch the segment below via Fox News Channel:
Have a tip we should know? tips@mediaite.com