Fox Panel Battles Over Whether The View Would've Treated Michelle Obama Same As Ann Romney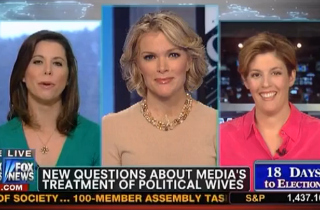 During Fox News' America Live this afternoon, Megyn Kelly's panel debated whether The View treated Ann Romney unfairly by asking aggressive questions, compared to the show's "kid glove" treatment of First Lady Michelle Obama.
Kelly began the segment by playing snippets from Ann Romney's interview on the talk show in which the GOP candidate's wife immediately faced tough questions about stem-cell research, abortion, and Mormonism. Meanwhile, President Obama and his wife were initially asked about their wedding anniversary.
"I don't think it's that surprising that a Republican would go into more of an ultimate fighting championship situation on The View and the president would get kid gloves," lamented conservative guest Mary Katharine Ham. "[The hosts] had the sitting president with them in the wake of a terrorist attack on the 9/11 anniversary that killed four Americans and they didn't grill him very hard on that. But Ann Romney got quite the grilling."
"If this is grilling, I don't think anybody has been to a barbecue," shot back progressive columnist Sally Kohn.
"For the potential First Lady, Sally? Do you think they would have done that to Michelle Obama?" Kelly challenged Kohn.
"First of all, they were prepared to have Mitt Romney come and then backed out," Kohn responded. "They led with a tougher question then moved onto talking about things like Costco and when she and Mitt fell in love early on," replied Kohn, adding that the tough questions were appropriate to ask because many women are put off by Romney's inconsistency on women's issues.
"If Michelle Obama had been sitting there by herself would they have gone after her anywhere close to the way they went after Ann Romney?" Kelly then asked Ham.
"I don't think that is likely," the conservative writer responded. "I think it would be a controversy if someone had gone after Michelle Obama with some of those questions."
Kelly then played the controversial clip in which The View co-host Whoopi Goldberg challenged Romney over her family's Mormonism and said that Romney and his sons never served in the military because of their religious beliefs.
Kohn refused to defend Goldberg's "embarrassing" question, adding that it was "bizarre, inappropriate, wrong, offensive." Later on, the progressive Fox News contributor said "there are progressives around the country right now that are throwing away their Whoopi Goldberg fan cards. She needs to apologize for the question. It was inappropriate, wrong."
Watch below, via Fox News:
— —
>>
Follow Andrew Kirell (@AndrewKirell) on Twitter
Have a tip we should know? tips@mediaite.com