Fox Panel Clashes Over 2007 Obama Video: 'Not In Same Universe' As Romney's '47 Percent' Video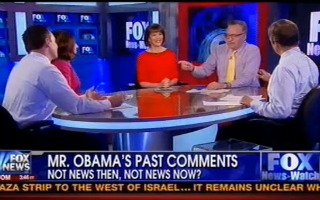 On Saturday's Fox News Watch, host Jon Scott asked panelist Jim Pinkerton of The American Conservative Magazine about the "reemergence" of a 2007 video showing then-candidate Barack Obama discussing the Stafford Act and its application to the 9/11 attacks in New York City versus the destruction caused by Hurricane Katrina in New Orleans.
RELATED: This Is Obama's 'Other Race Speech' That Drudge And Fox News Teased
Pinkerton felt the video would have made more of an impact had it "had come out in any real way in 2007," feeling that the initial media coverage hadn't been adequate.
Scott then asked panelist Judy Miller to offer her two cents regarding Obama's comments to his controversial pastor, Rev. Jeremiah Wright. Miller, noting that Obama had referred to Wright as "unapologetically Christian and unabashedly black," said that the moment was noteworthy because Obama doesn't usually mention race, but that his comments don't really warrant a scandal and that attempts to churn the footage into one have fallen flat.
Talk Radio News Service bureau chief Ellen Ratner felt that the video brings up a question that isn't really being addressed where Obama and race are concerned: Has the Obama administration made a difference in black communities?
Richard Grenell, a former spokesman to the last four U.S. ambassadors to the UN, wondered why Obama hasn't received more criticism for using a "Southern accent" when addressing the mostly black audience in the video. "We all know the President doesn't speak like that," he said. "He's pandering." Miller replied that there has indeed been media discussion of the President tedency to "drop his g's" and to become "folksy" when addressing certain audiences, black and otherwise.
The panel disagreed over whether the footage President's 2007 speech was "as bad" as recently-released footage of Romney's talking about a "government dependent" and "entitled" 47 percent, with Pinkerton pointing out that Romney retracted his statement, saying that it was "completely wrong" and wasn't what he'd meant.
When Grenell said that The New York Times covered the Romney video, but not Obama's, Ratner said that this is because the two videos weren't "in the same universe."
Have a look at the segment, via Fox News:
Have a tip we should know? tips@mediaite.com