Fox Panel Clashes Over Media Bias In Hillary Films: 'Whitewash,' 'Propaganda Of First Order'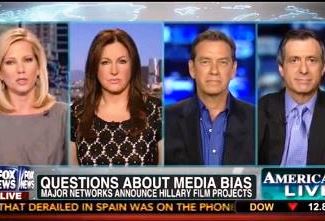 With CNN and NBC both announcing projects based on the life and times of Hillary Clinton, a Fox panel asked whether films about a 2016 presidential candidate could be free of political bias.
"It feeds the narrative that a lot of people already have that Hillary has this special status, both in the culture and in the media culture," media critic Howard Kurtz said. "If there's no film on any of the prospective Republican presidential candidates, then I think that it does kind of tilt the scale."
"If you want equal time and you're gonna put on a miniseries about Paul Ryan—I'm sorry, but I think I would fall asleep," said Leslie Marshall. "The reason this might work is she's a polarizing figure, if people love her they'll watch it. If people hate her, they won't watch it."
The panel also discussed the networks' handling of Benghazi, as many conservatives believe Clinton was involved in either gross incompetency in the affair, or an actual coverup.
"Of course she's going to be the innocent victim, the heroic figure," radio host Chris Plante said. "It's going to paint her as the person who tried to save them, worked late into the night. This is a whitewash before you begin."
Plante saw liberal bias in the networks' choice of talent, with CNN going with director Charles Ferguson, who directed No End In Sight, a film heavily critical of the Bush administration's execution of the Iraq War, and NBC casting Diane Lane.
"This is propaganda of the first order," Plante said. "Honestly, we should be bothered by it as Americans. We have one party in this country that gets really great treatment from the mass media, not just the news media but the entertainment media as well, and it creates a very stilted picture of our politics, to be generous. It's really rather third world."
"In fairness," Kurtz said, "we're sitting here critiquing two movies that haven't been made yet."
Watch the full exchange below, via Fox News:
—
>> Follow Evan McMurry (@evanmcmurry) on Twitter
Have a tip we should know? tips@mediaite.com