Fox Panel Clashes Over Whether News Media To Blame For American Gun Violence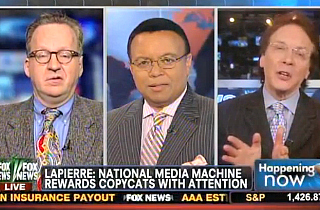 During a Fox News panel discussion this afternoon, liberal commentator Alan Colmes and conservative columnist Jim Pinkerton went head-to-head over whether the gun industry or the news media are responsible for gun violence in America.
Citing NRA head Wayne LaPierre's claim that the media fuels gun violence by rewarding shooters with "wall-to-wall attention and a sense of identity," host Kelly Wright asked the two opposing panelists to debate.
Colmes immediately fired back at LaPierre's remarks, calling the NRA leader "out of touch" and condemning him for "blaming the media" when gun violence "has nothing to do with" journalism. "The media that we use in a First Amendment righted country to spread news, to give information, that is the culprit? Out of touch," Colmes said.
Pinkerton responded that "there has been kind of an iconic perverse celebration of some of these killers who are sort of famous. There have been four movies made about the thrill killer, Charles Starkweather, from the 1950s. Four movies." He went on to cite Quentin Tarantino's new movie Django Unchained as a modern example of a film that focuses largely on "mass murder, revenge, and killing."
During last week's press conference, LaPierre also lamented that "there is a media machine in this country that wants to blame guns every time something happens. Colmes addressed this claim by noting that "we were reporting the facts as they unfolded letting the people decide and if it falls on the issue of having a conversation about gun control, or some other aspect of healthcare, mental health illness. What is wrong with that?"
Both Wright and Colmes seemed to disagree with LaPierre's claim that the media is kneejerkedly anti-gun, which prompted Pinkerton to cite CNN's Piers Morgan and Ali Velshi, who he said "pound away on the gun issue," in addition to NBC's David Gregory's interrogation of the NRA this past weekend. "It's clear that big chunks of the mainstream media have an agenda against guns," Pinkerton said.
An agitated Colmes interjected: "Do you really think the media is more responsible than guns are? Do you think they are more responsible than the actual availability of guns?"
"I think the actual person responsible is the killer," Pinkerton concluded after a bit of heated crosstalk.
Watch below, via Fox:
— —
>> Follow Andrew Kirell (@AndrewKirell) on Twitter
Have a tip we should know? tips@mediaite.com